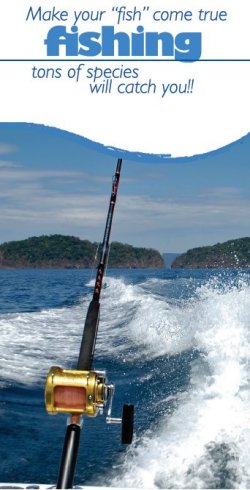 THE WORLD'S BEST FISHING
Giant marlin, sailfish beyond number, high-jumping tarpon, record-class snook and a dozen or more hard hitting fresh water species… Costa Rica has them all! Fishing just doesn't get any better than you will find in friendly, peaceful Costa Rica, and because this is a small nation, it's possible to enjoy it all on a single visit, perhaps with a day of white water rafting and a volcano and rain forest tour thrown in.
On the Pacific, it's common to release a dozen or more sails and even a marlin or two in a single day, and not unusual to release more than 30 sail-fish a day. There are also dolphin (including the long-standing International Game Fish Association's all-tackle record 87-pounder), giant yellowfin tuna, wahoo, cubera, roosterfish, a variety of snapper, grouper, blue runners, rainbow runners, snook and much more. And Costa Rica boat operators release all billfish that are not record contenders, so the future of the resource is assured. The all-time tournament record of 1,691 billfish releases by 120 anglers in four days was established in Costa Rica a few years ago during the International Sailfish Tournament. And all were caught on 20-pound-test line. At last count, there were more than 70 current IGFA world record fish from Costa Rica waters including 17 all-tackle marks.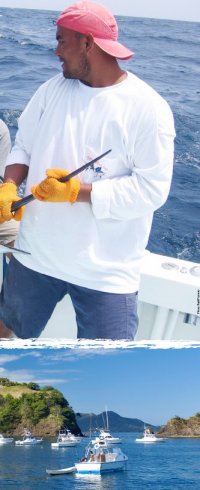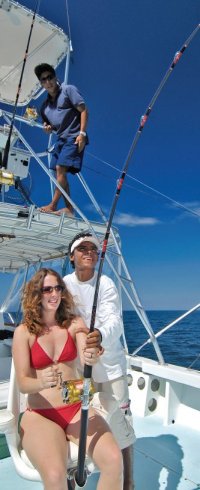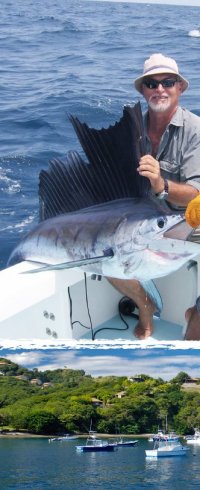 There's nof been a year in recent memory without three or more Super Grand Slams reported on local charter boats with sailfish, blue, black and striped marlin released on the same day. Grand Slams, with three of the four billfish species released the same day are routine during peak season. If hanging a giant billfish on a fly rod is more to your taste, a number of charter operators specialize in big game fly fishing. The first Pacific blue marlin ever caught on a fly was taken in Costa Rica along with eight other marlin and sailfish tippet-class IGFA records. The Annual Billy Pate International Sailfish Fly Fishing Tournament consistently posts the highest catch and release records of any similar tournament in the world. The Caribbean coast offers an entirely different type of fishing, with fine lodges and even a luxury houseboat accommodating anglers and nature lovers in pursuit of tarpon, snook and other species. For many fishermen, there's simply no bigger thrill in the world than having one of those 80- to 100-pound aerial acrobats smash a lure and immediately become airborne, often soaring 12 feet or more out of the water, twisting and turning, only to land and leap again, time after time.
Most operators on the Caribbean have put in bigger and faster boats in recent years, and are now able to get out the river mouths more frequently when the surf is up and where tarpon often spread for acres just offshore. When they are schooled it's not unusual to jump three or more of the Silver Kings on a single cast, as one fish throws the lure and another picks it up the moment it hits the water.
The larger boats are also able to make the longer run to the less frequently fished San Juan River where it forms the border between Costa Rica and Nicaragua. With miles of lagoons and tiny lakes tucked into the jungle, it has been virtually untouched by fishermen for nearly two decades, and represents a new horizon for anglers based in Costa Rica, an easy run by boat from the Barra. The 23- to 25-foot boats now available provide still another option. Tarpon fishermen on the outside have long found barracuda, jacks, kingfish, sierra, tripletail, cubera, grouper, jewfish and other gamesters just outside the river mouths, but with better equipment and some intensive training of the guides, fishermen on the northern Caribbean today regularly catch all of the above along with Atlantic sailfish, dorado, wahoo, tuna to over 100 pounds and even an occasional Atlantic blue marlin. Costa Rica has long been known for the best snook action in the world, with the bigger fish most often caught fishing from shore near the river mouths.
The all-tackle 53 Ib. 10 oz. IGFA snook record was caught at the mouth of the Parismina River and has been in the books since 1978.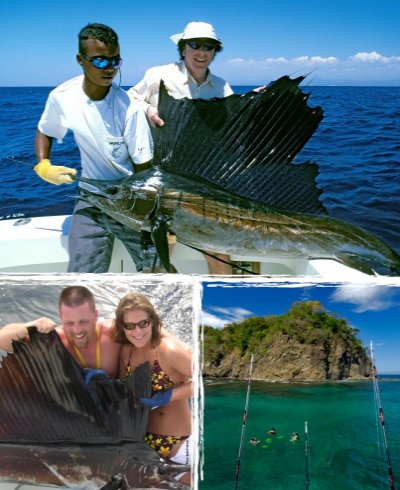 Light tackle fishing up river in the back waters and lagoons is unsurpassed, especially when the calba, or fat snook (Centropomus parallelus) are running. These are small snook that swarm the Rio Colorado area from about September through November, sometimes overlapping as much as a month either way. They average about five pounds, with eight and nine pounders fairly common.
Rainbow bass (guapote), mojarra, vieja, machaca, catfish, drum, alligator gar and other light tackle species also abound, while sawfish and freshwater sharks are occasionally caught well up the river, usually fishing at night with natural bait. Guapote are a largemouth bass fishermen's dream, and are fished exactly as you would for bass at home, readily taking spinner baits, jigs and crank baits.
For the dedicated fresh water fisherman, Costa Rica also offers literally hundreds of miles of rivers and some lakes that always provide plenty of sport; Lake Arenal is the most popular inland water, located about a four-hour drive from San Jose. It's loaded with rainbow bass, a member of the cichlid family as is the peacock bass found in some parts of South America and more recently introduced to Florida waters. The mature male develops a bizarre hump at the back of its head that can be as large as a softball, displays the shadings of rainbow trout and has the fishing characteristics of a largemouth bass, but is related to neither. During a 1 1/2-day tournament at Lake Arenal not long ago, the winning two-man team weighed in a record 17 fish at 91 lbs. 5 oz. IGFA record for the species, found only in Costa Rica and parts of Nicaragua, is It lb. 8 oz., and was caught in Lago Hule (shown as Lago Echandi on some maps), a beautiful postage stamp sized lake near San Miguel, but very difficult to access. Lago Coto, just above Arenal, Caño Negro Lagoon in northern Guanacaste, and Lake Nicaragua, located across the border but most easily accessed from Costa Rica are other inland hot spots.
Many rivers also have rainbow bass, along with bobo (a fresh water mullet}; mojarra, another colorful cichlid related to the guapote that looks like a giant bluegill with teeth; machaca, often called sabalito, or little tarpon, because of its acrobatic jumps that make it a favorite of fly fishermen; drum and others. Cano Negro is an immense inland lake that is home to the largest tarpon you're likely to find in the country. Largest actually weighed-in from there was 205 pounds. It also has snook, drum, guapote and others of those mentioned above. There is rainbow trout fishing in Costa Rica, but access to most of the more productive areas is challenging. Trout eggs from the United States of America were first stocked in many of the country's high elevation rivers and streams more than 20 years ago, and the rainbows now propagate naturally. Access to the trout waters generally is very difficult and requires a guide and a horse, out there are some exceptions including a section of the Savegre River near San Gerardo de Dota.
Lake Arenal is open to fishing throughout the year, but there are closed seasons in most inland waters, and a valid Costa Rican fishing license is required for freshwater fishing in the country. Seasons may vary, so it is best to check ahead of time when planning a trip. Most guides and resorts catering to inland fishermen provide the license as part of their packages. Because Costa Rica is a small nation geographically, there's hardly anyplace you can't reach within a few hours drive. The fishing areas on both coasts are serviced by regularly scheduled in-country airlines and charter flights.
There is always plenty of action someplace in the country, but it varies with migratory patterns, seasons and prevailing wind, weather, currents and other natural conditions at any given time. The best time to come fishing in Costa Rica? Whenever you can get here!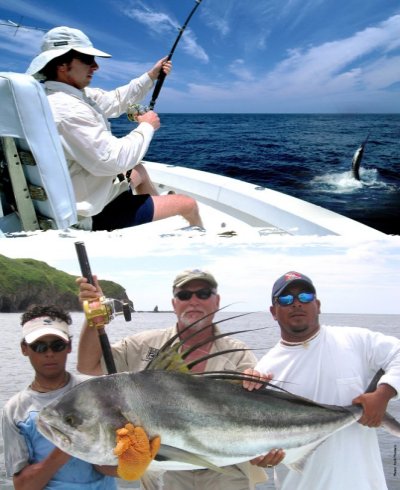 Following is a guide to seasons in the key fishing areas, but keep in mind that fish don't always check the calendar.
Pacific Coast
The Pacific Coastal region is divided roughly into the Northern, Central ana Southern fishing areas, with conditions varying with the seasons in each area.
Northern Pacific
Cabo Blanco to the Gulf of Papagayo
Flamingo Beach, with a full-service marina, is the major sportfishing center in the northern coastal area, but boats also charter out of nearby Coco's beach, Tamarindo, Ocotal, Potrero, Brasilito and a few points in between. A bit further south, there are boats operating below Cabo Blanco, out of Nosara, Garza, Samara and Carrillo beach, a region that gets more protection from the winds that normally blow late December into March and April. Some boats from the more northerly areas often base at Carrillo beach from about December through March if the wind is blowing and the main billfish population is moving north from the central coastal area.
Seasons
MARLIN Caught every month of the year, with mid -November to early March exceptional, then slowing a bit from April into early June when it picks up again, peaking in August and September.
SAILFISH Caught throughout the year, with May through August normally the top season. They may begin to thin out in September and the slowest months are from late August through November.
TUNA Peak months are probably August through October, but when all else fails, there are always tuna, anytime of the year you want to look for them, and more often than not when you'd just as soon avoid them to concentrate on billfish. The yellowfin and some bigeye tuna are often found well inside the Santa Catalina Islands, 30 minutes or less running time from the beach, while schools of 12 to 20 pounders are usually abundant on the outside. You frequently find concentrations of 40 to 60 pound tuna, and there are plenty of the 200 to 400 pounders caught every year.
DORADO More properly known as dolphin, these colorful gamesters are most abundant from late May through October when the seasonal rains flood the rivers, carrying out debris that forms trash lines close inshore that they like to lie under. Troll past a floating log and you'll likely hook a dorado.
WAHOO The first showing begins about the time the rains start in May, peaking in July and August. Most are caught around the rocky points and islands, but you will pick one up occasionally fishing offshore.
ROOSTERFISH Available all year, but there are more caught in the Papagayo Bay area from November through March. That may be because more boats in the northernmost area of this region are fishing inshore during those windy months, and the roosters like the structure of the shoreline and islands where they're found in 50 to 60 feet of water.
Central Pacific
Cabo Blanco to Drake Bay
Quepos is the center of fishing on the central coast, but there are charters available out of Puntarenas, the resorts at the southern end of Nicoya Peninsula, jaco Beach, Punta Leona and at Drake Bay. BHIfish are the target of most visiting anglers, and they are seldom disappointed from around December through April. Some sails and marlin are taken throughout the year. From most areas mentioned above, it's no more than a 12 to 20 miles run to the blue water where most of the billfish action is encountered. Inshore sport inludes tuna, rooster-fish, wahoo, dorado, jacks, mackerel, cubera, a variety of small snapper species and even snook. The snook can be taken trolting just outside the breaker line off the river mouths in the area, but are more often fished from shore. Some boats out of Quepos also offer multi-day trips to the Drake Bay and Caño's Island area, overnighting at one of the several lodges centered around Drake Bay. This region is best known for its wahoo, big cubera and roost-erfish, but there are also tuna, dorado, sails and some marlin.
Seasons
MARLIN October is normally the top month for marlin in this area, but action is also good in September and November and occasional blues and rare blacks are likely to be found anytime of year although they are usually out further than the boats hunting for sailfish are likely to be fishing.
SAILFISH Middle of December to the end of April -when they begin moving north- is rated the best season, but the big schools often move in about October and occasionally stay longer. A few sails always show among the catch from June through September, mixed with the other species that are found inshore during those months.
TUNA Found throughout the year as they are all along the Pacific coast, but most abundant from about June through September. Most are the eight to 12 pounders, but a dozen or more over 200 pounds and maybe another two dozen in the 100 to 200 pound range are taken every year.
WAHOO Not common in the area around Quepos, but more abundant in the lafe summer further south, especially the Drake Bay and Caño's Island area from late June to early August.
DORADO Best action begins with the winter rains that start in late May and wash debris from the river mouths creating the inshore trash lines that the dolphin favor.
ROOSTERFISH Fishing for this hard-hitting inshore species is incredible, with the best spots off the river mouths and the rocky dropoffs. Favored spots are the mouth of the Parrita; Palo Seco between Parrita and Damas; lust outside Damas; off the mouth of the Naranjo River; around the points at Dominical and throughout the Drake Bay and Cano's Island* area. Best fishing is from June through early September.
SNOOK Favored spots are just off the many river mouths ail along the coast, up the Sierpe river and in the big lagoon on the Sierpe. The IGFA world record Pacific black snook was taken in the month of July at the mouth of the Rio Naranjo on a boat trolling just outside the breaker line. This is a relatively new target for some small charter boats, but the best months seem to be from July through November during the heavy rainy season.
Southern Pacific
Golfito & Playa Zancudo
Golfito is the largest town on Costa Rica's southern coast, but there are only a half dozen operators scattered between the northern end of Dulce Gulf, the town of Golfito, Puerto Jiménez on the Osa Peninsula and Zancudo beach. Zancudo is a narrow peninsula with miles of beach on the ocean side and bordered by several rivers on the other. Expect to raise a dozen or more sails and likely a martin or two outside Matapalo Cape during peak season, and plenty of jacks, runners, mackerel, amberjack, roosterfish and big snapper inshore. There are two modern marinas in Golfito, both offering fishing charters as well as facilities for transient yachts.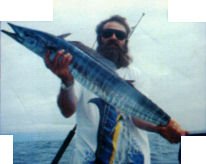 Light tackle fishing inside Dulce Gulf, with its profusion of small coves and rocky islets and shore-tine, is also good for small barracuda and snapper, corvina and occasional snook to over 40 pounds. Fishing the dropoff outside Matapalo Cape they get sails, marlin, tuna and other blue water species, and inshore there are roosters that average over 30 pounds, grouper, jacks, barracuda, trophy size Pacific cubera snapper and more. There is also excellent snook fishing inside the Zancudo Peninsula, and further north, at the mouth of the Esquinas river.
Seasons
MARLIN August through December is the peak season, but an occasional striped, blue or black may be taken most any month if the water temperature is up.
SAILFISH A few taken off and on year round with best fishing from December through March. It often slows from April into early June, then picks up again and peaks in August and September.
TUNA Best fishing for the 100 pound and up yellowfin corresponds with marlin and sailfish season, but the schools of up to 30 pound tuna can nearly always be found outside.
DORADO Best runs are traditionally from Sate May through October, when the rivers are running full.
WAHOO Not abundant but occasional fish may be taken most any time of the year while trolling offshore for billfish or around the structure off Matapalo Cape.
ROOSTERFISH The region is famous for its big roosters and they can be caught virtually any month of the year.
SNOOK All year, but best from mid or late May through July and in January and February.
Caribbean Coast
Fishing along Costa Rica's Caribbean coast can vary more from one day to another than from month to month. Historically, tarpon fishing has been promoted by the lodges on Costa Rica's east coast during the dry season from about December through mid May, while snook traditionally peak from about September through November. But the fish are there year round, and it's mostly a matter of weather, which can change overnight. If the river drops or the surf is low enough to let you outside the river mouth, it's likely you'll catch fish. There are a lot of flat days in October and November when tarpon are abundant, and some of the best fishing has consistently been in June and July. All of the lodges offer complete packages, including hotel nights in San José, air transportation, meals, boats and guides. There are no roads into the area, and access is via the in-country airlines, charter flights, or boat through the Tortuguero Canal system from Limón.
Seasons
TARPON They're always around, with traditional high season from December through May, but that was a number of years ago when all of the lodges were fishing with 16-foot boats and couldn't get outside the river mouths as they do today with larger boats designed for that purpose.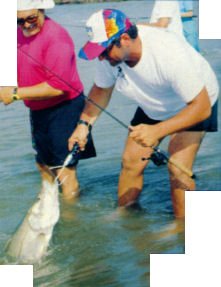 SNOOK Big snook generally peak from March through May and again September through the end of November.
FAT SNOOK (Calba) Peak from mid-November through late January, but often make an appearance much earlier.
BILLFISH When you can get outside to the blue water you will find Atlantic sailfish and occasional Atlantic blue marlin most anytime of the year. Most are caught from February through September.
WAHOO Plentiful on the outside from early February through mid June.
DORADO Caught just outside the river mouths throughout the year. Best fishing is when the runoff carries out the debris that forms inshore trash lines.
TRIPLETAIL January through June.
KINGFISH, SPANISH AND CERO MACKEREL, JACK CREVALLE, BARRACUDA Abundant close to shore anytime the ocean is flat.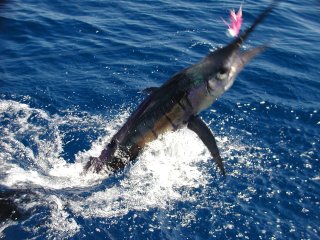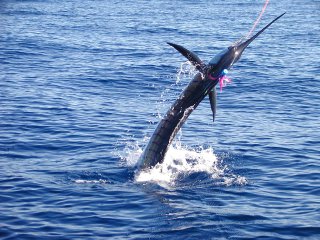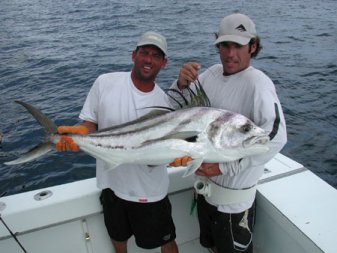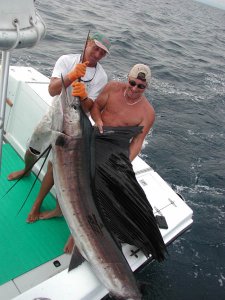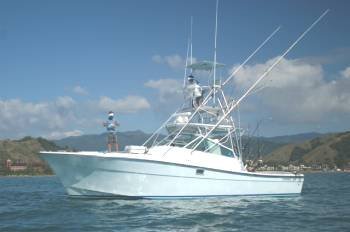 Comentarios Facebook