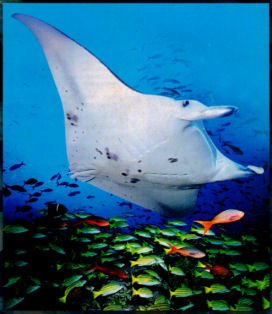 Dive Guide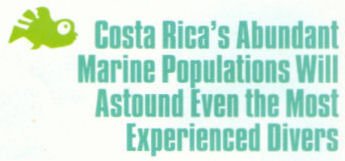 Imagine a place where the water is warm (75 to 85°F) and the schools of fish are so thick they flow like rivers in the open sea. At almost every dive site, there is a billowing cloud of 2,000 to 10,000 fish hanging above the reef. The place is Costa Rica, where the unexpected is common place. Hazy shadows emerge from a blizzard of fish as divers are greeted by a giant Manta Ray, an elegant Eagle Ray or perhaps a Whale Shark. Big animal encounters are frequent and often occur near shore. Nutrient rich waters are what attracts all those fish. While some dive destinations offer high visibility and few fish, in Costa Rica you will find tons of fish and visibility in the 30 to 120 foot range.
At offshore islands, divers can witness fantastic flights of 400 to 500 schooling Hammerhead Sharks, 4,000 Bat Rays, 50 to 60 black Pilot Whales or 100 Mobula Rays. For shark lovers, there are many spots where you can find Whitetip Reef Sharks stacked up like logs, several semi-friendly Bull Sharks, or the more aggressive Galapagos Sharks. Few places on earth can rival the biodiversity and abundance of this remarkable destination—warm water, good visibility and tons of fish!
PACIFIC AND CARIBBEAN: Costa Rica is a small tropical country between two oceans. One side borders the warm Caribbean; on the opposite side is the abundant Pacific. Both offer opportunities for exploration and adventure. The Pacific coastline is the more extensive of the two, stretching for almost 750 miles.
GUANACASTE REGION: In the northwest portion of the country is the Guanacaste Region, the center of Costa Rica mainland diving. Numerous dive operators and coastal resorts are clustered around the resort communities of Playa del Coco and Flamingo Beach. More than 60 dive sites have been charted in this area, most within a 10 to 20 minute boat ride from the resort. These sites range from coral reefs to rocky outcroppings, submerged seamounts and shallow coral gardens.
The marine life biodiversity is incredible and visitors often encounter frogfish, four species of moray eels, several Whitetip Reef Sharks, two species of angelfish and several giant schools of reef fish—all on the same dive! What is particularly fascinating is the mixture of species that encompass Caribbean, Pacific coastal and tropical Pacific waters—all in the same area. The high point of any visit to the Guanacaste Region is to dive the offshore islands, where big animal encounters abound. The Bat Islands are a string of offshore rocky islets that jut out from Santa Rosa National Park, at the very northern reaches of the coastline. Here you'll find Big Scare, a dive site populated by several friendly Pacific Bull Sharks.


Hold onto Your Regulators and
Be Prepared for the Greatest Diving
in the northern Hemisphere!



The Catalinas are a small cluster of rock islands toward the southern end of the Gulf of Papagayo. Here divers will find a large population of Whitetip Reef Sharks, schools of Bat, Eagle and Cownose Rays and often, Mantas.
NICOYA PENINSULA: Nicoya is a large peninsula in the more central region of Costa Rica's Pacific Coast. It offers a general blend of outdoor activities combined with recreational diving. All-inclusive resorts provide an opportunity to enjoy sailing, tennis, snorkeling, scuba; fishing and other outdoor sports.
OSA PENINSULA: Farther south on the Pacific Coast is the Osa Peninsula—a virtually untouched tropical paradise. Famous for its eco lodges, nature tours and river trips, Osa is also the home of the Caño Island Biological Reserve. Ten miles off the mainland coast, Caño is a fully protected natural paradise with an exceptionally beautiful reef bordering its shores. With depths ranging from 15 to 70 feet, these reefs offer an incredible diversity of fish life and marine creatures, including Mantas, Whitetip Reef Sharks, Whale Sharks, schools of jacks and sea snakes.
COCO ISLAND: Coco is a mid-Pacific Ocean island, 250 miles from Port Puntarenas. Classified as a national park. Coco Island is uninhabited and remains in a totally natural state. The island is accessed by three live-aboard dive vessels.
The diving at Coco is nothing short of phenomenal. It is the natural habitat for Costa Rica's legendary schooling Hammerhead Sharks. These magnificently graceful animals can be seen swimming in schools of 200 to 600. Other big animal encounters include giant Mantas, Whale Sharks, Wahoo, Sailfish, Marble Rays, Whitetip Reef Sharks, Humpback Whales and dolphins.


More Marine Life Than Most Divers
Will Experience in His or Her Diving career…
Wow That's a lot of fish!



CARIBBEAN COAST: Costa Rica's smaller 130 mile Caribbean coast is an uncharted frontier for diving. This region is overshadowed by the Pacific Coast resort boom. Hotels are spotty, dive operations are just starting and virgin reefs await exploration.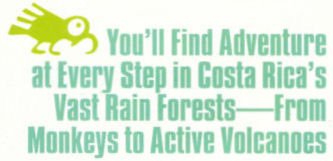 LAND ATRACTIONS: Costa Rica is a gentle nation with a Latin flavor. With a modest population of three million residents, it has no army or navy and is often described as the Switzerland of Central America. The people (called Ticos) are friendly, well educated, industrious and the highest standard of living in Central America.
Costa Rica's terrain and climate are highly variable. A mountain range bisects the country, with lowlands along both coasts. The country offers an opportunity to explore fascinating rain forests, hike mountainous volcanoes or swim in warm seas along both coasts. Costa Rica is considered the eco tourism capital of the Western Hemisphere. It has 20 national parks, wildlife refuges, forest reserves, protected areas and fauna sanctuaries.
LIVE VOLCANO TOURS: Costa Rica is at the heart of one of the most active volcano regions on earth. There are 42 active volcanoes and 60 dormant ones. Several national park have been created around active volcanoes, complete with viewing facilities, hotel accommodations, guided walks and educational lectures. Among the most popular are Arenal, Irazu and Poas. Even Coco Island is the rounded top of an ancient volcano. Visitors can hike to the rim of these geological phenomena and peer down into pools of molten lava spewing fumes of chlorine and sulfur.
WHITEWATER RIVER RAFTING: There are at least five rivers that offer exciting, challenging whitewater river rafting. These rivers are rated by degree of difficulty, ranging from Class I to IV. Only one river is rated as Class V, for experts only. The thrill of whitewater rafting is difficult to describe but could be compared to a combination of riding a roller coaster and surfing a wave. The tours are a marvelous combination of serene river drifting punctuated by fast moving action. Many of the tours include an overnight stay at one of Costa Rica's many jungle lodges.
KAYAKING: Costa Rica offers three types of kayaking: whitewater kayaking for the adventurous; jungle river kayaking for the nature lover; and ocean kayaking for the sea going sportsperson.


For Every Fish Underwater
You'll find an Exciting Topside Counterpart…



RAIN FOREST TOURS: The rain forests of Costa Rica have long been the country's major tourist attraction. Visitors come from all over the world to walk, hike and tour these magnificent ecological havens. And recently, a new dimension has been added with the construction of an aerial tram that carries visitors through the jungle canopy. The forests arc home to a variety of exotic animals, including jaguar, howler monkeys, three-toed sloths, tapirs and many others. Equally fascinating are the rare jungle birds such as the scarlet macaw and keel-billed toucans.
WATER SPORTS: Equally alluring are the multitude of water-sports to be found along the Pacific coastline. Much like Southern California, select beaches offer excellent surfing opportunities when conditions are right. Visitors can enjoy a variety of sailing cruises, windsurfing, swimming, snorkeling and other water oriented sports. Costa Rica has excellent fishing— both fresh and saltwater. Some of the major game fish of this region include Marlin, Wahoo, Sailfish, Tarpon and tuna.
OUTDOOR ACTIVITIES: Other activities popular in Costa Rica are bicycling, horseback riding, mountain hiking, birdwatching, motorcycle touring and natural history cruises.
SIGHTSEEING: As for sightseeing, Costa Rica offers some of the most unusual activities imaginable, such as a tour of the butterfly farm, a visit to a coffee plantation or a tour of the country's fabulous Gold Museum, housing 2,000 pre-Columbian gold artifacts.
If archaeology is your interest, no visit could be complete without examining Costa Rica's extraordinary stone spheres -perfectly round balls of stone measuring up to six feet in diameter and weighing up to 15 tons. These mysterious sculptures date back 500 to 1,500 years and are hand-carved from dense volcanic rock.
With all the topside attractions, the friendliness of the Tico people, the warm water and tons of fish, it is easy to see why Costa Rica will be the next hot spot for divers and their families.
Comentarios Facebook