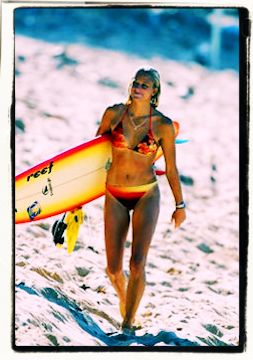 Surfing in Costa Rica
With miles of coastline on two oceans, it's no wonder that surfing is a popular sport in >Costa Rica, and that never ending search for the perfect wave draws enthusiasts the world over. Whether looking for right or left breaks, Costa Rica's perfect blends of geography and wind have created prime conditions to satisfy every taste. Costa Rica Beaches had become one of the most popular surf spots in the central Pacific area. Costa Rica is the perfect place to spend vacations: relax, enjoy nature and do what you do best, surf…!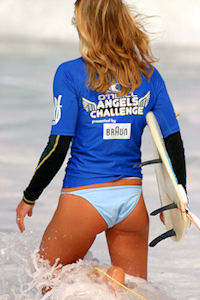 Most surfing areas cater to the incoming crowd in many ways, with board rentals available, as well as a wide range of accommodations and activities for when the sun goes down. Costa Rica's diversity and tremendous variety of surf spots make it possible to surf excellent waves all year long. The short travel distances and different regions provide traveling surfers with the possibility not only to experience magic and adventure while visiting interesting and unique spots of Costa Rica, but to score a variety of world class point breaks, reefs and beach breaks. Best of all, you can surf in the warm ocean all year round.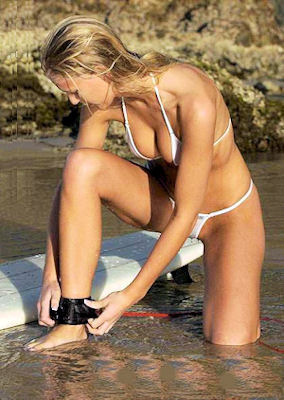 The Pacific coast has over 40 mapped surf beaches, offering up waves suitable for beginners to advanced surfers, depending on the location. The beaches in northern Guanacaste are said to be a Mecca for experienced surfers, due to the strong windy. Roca Bruja (Witch's Rock), Potrero Grande, Playa Naranjo and Plava Negro are a few spots to catch some strong, excellent waves. Further south, but still in the north pacific region, Mal Pais, Santa Teresa, Playa Hermosa, Manzanillo and Nosara —among others— are said to have great breaks.
International competitions in Costa Rica are becoming more and more popular. For long board enthusiasts, every June the annual Rabbit Kekai Long boards Classic and the Women's World Long board Championships takes place on the Pacific Coast's Boca de Barranca. Said to be on one of the longest breaks in the world, this competition will bring over 300 surfers from every corner of the globe, representing 3 generations of enthusiastic participants.
The mid-Pacific region offers a wide range of surf beaches to choose from, with Jacó being perhaps the best known.
Costa Rica experiences semi-diurnal tidal differences. Extreme tidal variations on the Pacific coastline always guarantee quality waves for hard core surfers willing to explore. Stop in at any local surf shop or befriend a local to learn about the best conditions for the different breaks. With so many different beaches and locations to choose from, Costa Rica is the ideal place for unforgettable surf trips.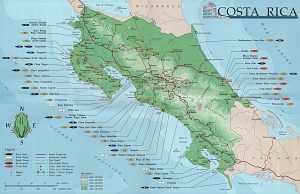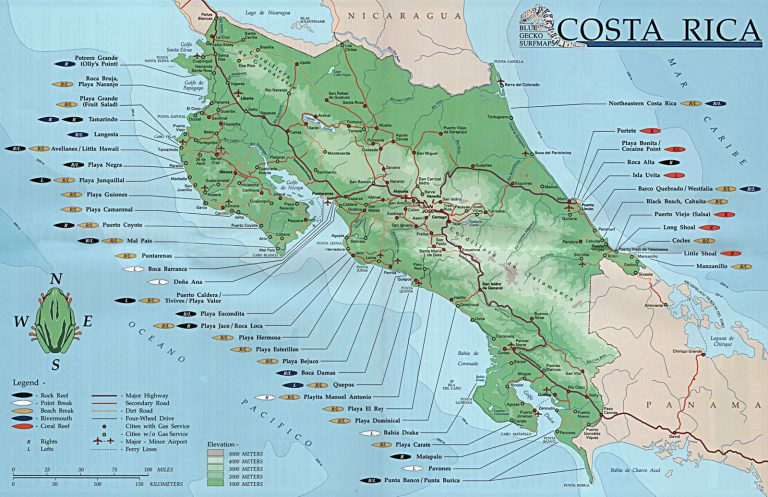 Break Descriptions

The Caribbean
1 – Manzanillo A very fast beach break located 20 km from Puerto Viejo, Limon. Here you find rustic lodging and typical food. Located close to an unpaved road, and easy to get to
2 – Puerto Viejo A very thick and voluminous wave that comes from deep water onto a shallow reef, also called «salsa», for its juice power. This place gets very big and tubular (legitimate big wave). Salsa is approximately a 3-1/2 hour drive from San Jose and there is a restaurant and accommodation close to the point.
3 – Black Beach, Cahuita An excellent beach break, not well known and therefore not heavily visited. Nevertheless, there are waves all year round.
4 – Westfalia A stretch of beach breaks extending south from limon to Cahuita, offering lefts and rights that tend to close out where the swell gets too big.
5 – Playa Bonita A point/reef break known for its very thick, powerful and dangerous left. Located 5 km north of limon (downtown).
6 – Portete A small bay located north of playa Bonita. With a right working off the southerly point. Since it is close to limon, you will find easy access.
7 – Isla Uvita An island off the coast of Limon. Here you will find a good left. Isla Uvita is about a 20 minutes boat ride from Limon with passage available at certain times of the year.
8 – The North Caribbean Coast Good beach break waves accessible via Tortuguero channels or by private plane. You can rent a boat to take you through the channels near Puerto Moin, 15 km north of playa Bonita.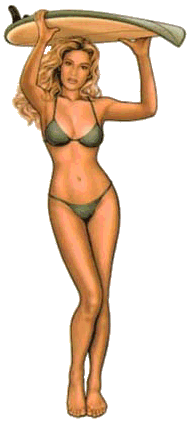 North Pacific Coast
9 – Potrero Grande A right point break, with very fast and hollow waves. Located 270 kms from San Jose with no road access. You must go to playas del Coco or playa Ocotal and proceed from there by rented boat.
10 – Playa Naranjo (Witch's rock) one of the best breaks in the country, with very strong off-shore winds from December to march. This wilderness point is located in the national park of Santa Rosa. You must go totally prepared for camping since there are no facilities. A good 4×4 is a must, and don't forget your mosquito net.
11 – Playa Grande Beach break, located about 20 minutes north of Tamarindo. Accessible by road.
12 – Playa Tamarindo Here you will find two mains points : a- Pico Pequeño a rocky point in front of the hotel Tamarindo, and b-el estero, an excellent river mouth break.
13 – Langosta A right and left point break that curls off the mouth of a a small river, located I km south of Tamarindo.
14 – Avellanas Good beach break, «guanacasteco» featuring very hollow rights and lefts. Located 10 km south of Tamarindo.
15 – Playa Negra A right point break with very fast waves, 350 kms from San Jose. Playa Negra is one of the best breaks in the country. Located 5 km south of playa Avellanas.
16 – Nosara Beach break, with lefts and rights. About 350 kms from San Jose. You go from San Jose to Nicoya and from there to Nosara. It takes approx. 5 hours to get there.
17 – 18 – 19 – Playa Coyote, Manzanillo, and Mal Pais Beach breaks, with very consistent lefts and rights and several points. A 4 wd vehicle is recommended. Now you can find a lot of places to stay.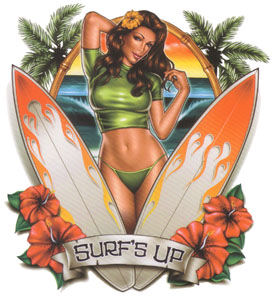 Central Pacific Coast
20 – Boca Barranca A river mouth with a very long left, located 100 kms of San Jose with excellent access, paved road. Many places to stay. Dark water during rainy season scares off many. Boca Barranca and any other nearby beach are no contaminated. Boca Barranca offers some of the best waves pf the country.
21 – Puerto Caldera This spot has very very good left located 3 km south of Boca Barranca, Puntarenas.
22 – Playa Tivives and Valor Featuring a variety of waves from beach breaks (Tivives) to a rocky point (valor). Good quality rights and lefts.
23 – Playa Escondida Excellent point break that peaks up forming a very good left and a surfable right. Accessible by land I you are a member of the beach club there (fresh water shower on the beach for member and guests), or by taxi boat to the cove to the south. You can rent a boat from playa Jaco or playa Herradura.
24 – Playa Jaco Can be good beach break when the surf is not too big. Tends to close out when it gets over 5 feet. Playa Jaco is approximately 2 hours from San Jose (140 km), and the waves are not always dependable. One of its principal attraction has been surfing, this because of its location on the central pacific and it being so close to great quantity of places, specially playa Hermosa, playa Escondida, and Boca Barranca, Puntarenas. Jaco is a growing center of tourism enjoyment, with hotels, cabins and camp grounds.
25 – Roca Loca Located 1.5 km south of playa Jaco. A rocky point with rights that break over submerged rocks. To get the point, you will have to climb a small hill.
26 – Playa Hermosa and others Very strong beach break. This long stretch of break peaks working any given day, but the preferred sand bar is located in front of a large tree known as the Almendro. The waves conditions are generally best when the tide is rising. Don't forget the tip the kids who open the gate for your car.
27, 28, 29, 30 Esterillos Este, Esterillos Oeste, Bejuco, Boca Damas. Beach breaks, good wave forms, the points located very close to playa Hermosa, making easy access and many nearby accommodations. The wave conditions are very similar to those of playa Hermosa.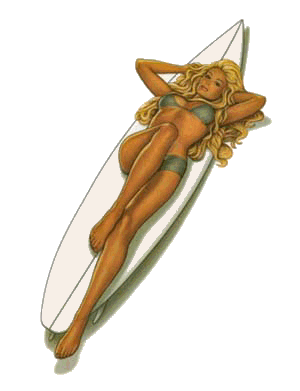 South Pacific Coast
31 – Quepos This small left point is found at the river mouth in the city of Quepos, easy access with many restaurants and accommodations.
32 – Playita – Manuel Antonio Beach break, lefts and rights with good shape. This coastal area needs larger swell for the surf to show.
33 – Playa El Rey Rights and lefts beach break peaks. Best access to get there is taking the road to playa Dominical, 25 minutes from Quepos, in Roncador go right 11 kms and you will be there.

34 – Playa Dominical Good, strong beach break with lefts and rights. Beautiful landscapes and very tropical.

35 – Drake's Bay This remote break offers long, powerful waves when the swell is running. Boca del Rio Sierpe, is another place with exciting potential for the same kind of waves. Corcovado national park is an adjacent kingdom of lush, tropical wilderness, approximately 1-1/2 hours by boat.
36 – Matapalo Excellent right point, you can get there by road from Pueto Jiménez. Perfect waves.
37 – Pavones Excellent left point, considered one of the longest in the world. Good shape and very fast. It is located 400 kms from San Jose (8 hours by car). Bring camping gear if you wish to hang there. Out on the peninsula across Pavones, a half-hour boat ride away, is reputedly a series pf right points the equivalent of Pavones' world class lefts.
38 – Punta Burica Very remote reef breaks. Accessible only by boat, No accommodations. Not much known. If you really want to get away…
Surf Dominical

Surfing in the waters off Costa Rica's «Endless Summer» beaches is most definitely world class. Both coasts offer the international surfer an abundance of different types of conditions from one of the longest left-hand breaks in the world at Pavones to the quadruple overheads of Salsa Brava. The only problem with these and other incredible surfing spots is the fact that they are seasonal, only going off a couple of months a year. This, however is not a problem at Playa Dominical, where year-round good surf and double overheads are the norm.
'Discovered' in the early seventies by a group of intrepid and dedicated surfers, Dominical has steadily gained in popularity over the last 30 plus years. The town has become a haven for surfers with local restaurants offering 'Starving Surfer' food specials and nonstop surf videos. This relaxed and laid back atmosphere, combined with inexpensive accommodations and great surf, draw thousands of surfers a year like a giant magnet. The unusual conditions of the beach are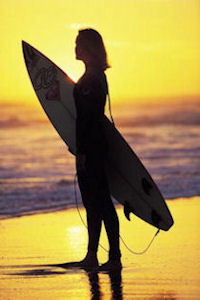 what gives its surf both size and dependability. The wave is a beach break with a twist, that twist being the mouth of the Rio Baru to the north. The river empties out of the mountains to the east and deposits sediments that form into a sandbar that spreads like a pair of lazy rabbit ears north and south of the mouth. As the swell approaches the beach and forms into a wave, it's wave to depth ratio is the universal 2 to 3. Meaning the size of the wave is directly proportional to the amount of water it is in. So, a 10 foot wave will always be in water that has a depth of 15 feet and so on. The reason this is important is that once this wave meets the sandbar it peais down the length of the bar creating a beautiful left hand break. The best time to surf is from an hour before high tide to an hour after when the sandbar is furthest out and has the greatest effect on the waves' break.
Dominical beach has a reputation of being dangerous and it is well justified, as is evidenced by the number of broken boards that litter the ceiling of the local surfer hangout bar, San Clemente. Remarkably, the vast majority of surfboards that are broken are actually broken by the best surfers. The reason for this is simple: when the surf is really big and pumping they are normally the only ones out there. Plus, they are the ones that are constantly pushing the envelope and trying new things. Beginning and intermediate surfers should take some time to get acquainted with the water and its tides as there are couple of different rips that have to be taken into consideration. Also, it is advisable to talk to the local surfers and ask them when and where it might be best to start out. They know the beach and it's peculiarities better than anyone else. In an effort to make the beach safer, the town has pooled together to erect a guard tower and staff it with lifeguards during the day.
Dominical is the perfect home base for surfers that want to make the most of their time here in Costa Rica. It has year-round good surf plus a central location on the Pacific which allows them to get to the other surf spots with relative ease.
There are two national preserves in the immediate area with three more (Manuel Antonio National Park, Corcovado National Park and Caño Island National Preserve) only an additional hour and a half away. North of town, on the other side of Rio Baru is Hacienda Baru, which is a private 1000 acre preserve. Stretching from the beach with its mangrove swamps filled with bright yellow beaked toucans to its primary forest crested hilltops, Hacienda Baru offers the ecological tourist the opportunity to see a wonderful diversity of tropical plants and animais. To the south is the country's only totally underwater national park, Marino Ballena. Here it is possible to see a pristine and virgin underwater world with scores of multi-colorful marine creatures, coral reefs and jagged, ash black, volcanic rocks and tide pools. In the hills directly east of town are areas of primary forest with numerous waterfalls throughout, including the county's tallest, a three level, 800 foot high mountain of cascading water.
Reaching Dominical and the surrounding area is easier than one might expect. It is a three and a half hour drive from San Jose by car through some of the most visually stunning scenery in the entire country. Traveling south down the Pan-American Highway below Cartago takes you through the country's largest cloud forest and the worlds last remaining, sustainable habitat for the endangered quetzal. The trip by bus is only an hour more with one stop and change in San Isidro. It is only necessary to rent a four wheel drive car if you intend to do some exploring in the mountains or continue traveling further north or south. It is a one and a half hour drive to Quepos by car, 4×4 recommended, or an additional half hour by bus.
In a country full of beautiful vistas and lush tropical landscapes, this area not only holds its own, it shines. Dominical, the quiet little out of the way place that's not so out of the way.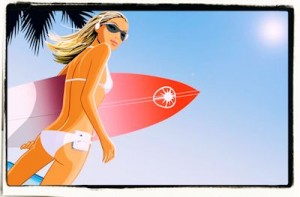 Gallery: Santa Teresa / Mal País
Surf in Hermosa Beach
The Queen of the Pacific

By Edwin "Carton" Villalobos
Big black sandbanks, blue horizons, white foam and continuous sea movement that offers us beautiful and perfect waves for practicing surf. These are some of the things that our queen of the Pacific, Hermosa Beach gives us.
The small town, only 7 kilometers away from Jaco Beach, is developing slowly, continuing to show us its originality. It receives the majority the surfers that travel to our country, providing them with comfort and a lot of activity in a natural environment.
In Hermosa Beach's northern sector is where the social life congregates, here the locals and tourists get together and it is where more professional surf competitions take place, even at night. Here the waves break and they break fast, and since it is not affected by any river the water looks green, as green as the intense nature that surrounds it. "Breaks", waves, each one have its own name. These begin with "Terraza" (terrace), a very precise wave that acquires a magic with its correct "swell" direction. It is followed by "La Piedrita Fuego del Sol" (the small stone fire of the sun), that is a good guide, it always breaks there. The "sandbars" of "Las Olas" (the waves) are very comfortable. The "Backyard" follows, the fastest wave in all of Hermosa Beach.
A little further, our monument "Los Almendros" (the almond trees), inspires us with its tubes. It is the gathering point for locals and it brings us memories as our old surf point. The truth is that this place has taught us to surf, has made us feel the power of the sea and its peace. The opportunity to practice here is infinite, every day we can have a good time and feel that we are real surfers.
If we go south it seems like another world. The beach begins to open up, grabs more level, the currents are deeper, the waves break further out and they are bigger and perfect. This sector is interesting for its wetlands, lagoons and its great variety of birds. It is a Biological Reservation, where marine turtles Lora and Baula come to lay their eggs. The sector is known as "Laguna Pochotal", surrounded by livestock and an abundant flora.
Following the road toward the famous "Tulin" river a wave with a lot of power stands out, with a very tubular right, called the "Chanchera", (pigsty) because there is an old corral for breeding cows, goats and pigs, very typical in the area. Here the currents are intensified generating big soil movements in the bottom of the sea.
But the biggest wave, clean and long it is in our dear "Curva", (curve) "Beach Break", to the south side of the "Chanchera" that breaks farther out, with more open waves and wider channels, perfect for high-level surfing. It is always good to take a board a few inches longer since its waves become very precise masses of water at take off and with varied speeds. The currents move the sandbars and change the position of the peaks.
Toward the south it continues breaking until the famous place called "Tulin", with long waves of different directions, very consistent in the summer. Up to where this river meets the sea there are over 15 kilometers of beauty that the nature gives us for everyone to enjoy.
Hermosa Beach is to only two hours away from San Jose. It is an ideal destination to rest and to enjoy the waves. Especially to locals it has offered us the opportunity to practice this sport, an employment source and a place where to continue enjoying our relationship with Mother Nature.
El pase de diapositivas requiere JavaScript.
Comentarios Facebook